New research from the Environmental Working Group shows that the animal products you eat have remarkably different affects on the environment .
The research shows that Lamb, beef and cheese have the highest emissions. In part this is because they come from ruminant animals that constantly generate methane through their digestive process. Methane (CH4) – a greenhouse gas 25 times more (CH4) potent than carbon dioxide (CO2), accounts for nearly half the emissions generated in this study's Nebraska beef production model (see chart below). Pound for pound, ruminants also require significantly more energy-intensive feed and generate more manure than pork or chicken (see figure 2).
Lamb has the greatest impact, generating 39.3 kg (86.4 lbs) of carbon dioxide equivalents (CO2e) for each kilo eaten – about 50 percent more than beef. While beef and lamb generate comparable amounts of methane and require similar quantities of feed, lamb generates more emissions per kilo in part because it produces less edible meat relative to the sheep's live weight. Since just one percent of the meat consumed by Americans is lamb, however, it contributes very little to overall U.S. greenhouse gas emissions.
Beef has the second-highest emissions, generating 27.1 kilos (59.6 lbs) of CO2e per kilo consumed. That's more than twice the emissions of pork, nearly four times that of chicken and more than 13 times that of vegetable proteins such as beans, lentils and tofu. About 30 percent of the meat consumed in America is beef.
Cheese generates the third-highest emissions, 13.5 kilos (29.7 lbs) of CO2e per kilo eaten, so vegetarians who eat a lot of dairy aren't off the hook. Less dense cheese (such as cottage) results in fewer greenhouse gases since it takes less milk to produce it.  It takes 10 pounds of milk to make 1 pound of cheese.
Full Lifecycle Greenhouse Gas Emissions from Common Proteins and Vegetables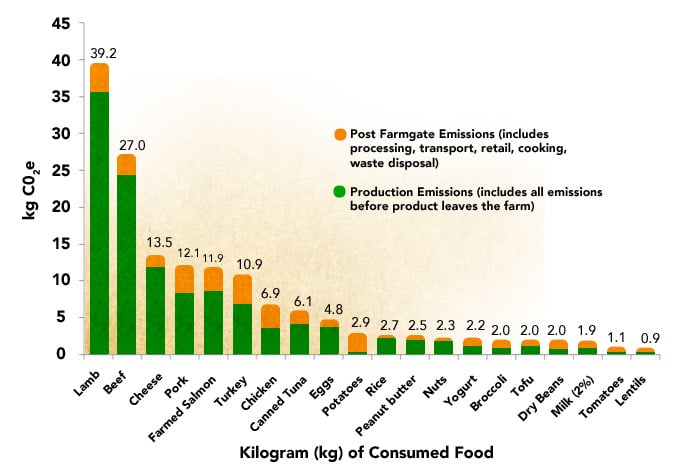 The EWG are calling for us all to forgo meat and cheese one day a week, environmentally it would be the same as the country driving 91 billion fewer miles a year.
The call joins a growing movement advocating once-a-week meat-free meals, from an International Meatless Monday campaign and a European Veggie Days movement to decisions by some Catholic bishops to suggest a return to the no-meat Fridays of old.
The EWG report is the most recent in a long list calculating the greenhouse gases emitted in food production.
Source: Environmental Working Group